Aiken's Horse Heritage
South Carolina's agreeable climate and diverse topography effortlessly embrace all things equine, and the city of Aiken itself has been long recognized for its niche attributes and rich history as an equestrian hot spot.
Aiken's well-known equestrian history began with the snowbird lifestyle of wealthy northerners who chose the area for its mild weather and sporting opportunities, seeking to pursue activities like polo and foxhunting. Today, that tradition continues to be honored in the preservation of historical landmarks, annual events like the Aiken Steeplechase and Blessing of the Hounds, and by equine enthusiasts in Aiken, like Sunday Polo games in the Spring and Fall or historical tours of the city via horse-drawn carriage.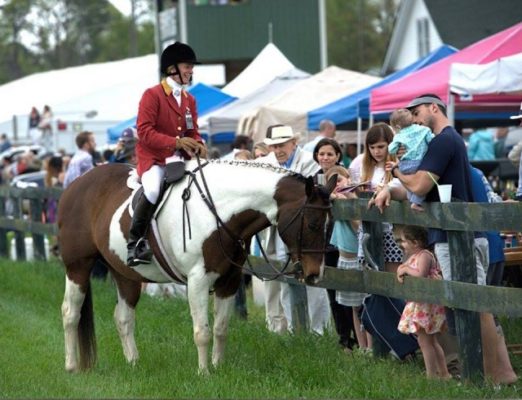 Equestrian Amenities at Anderson Farms
Combined with the advantages of our hometown's thriving equestrian community, neighbors enjoy the best of both worlds at Anderson Farms, with access to an abundance of amenities for both residents and their hooved companions to enjoy.
Boasting large property sizes ranging from 2 to over 5 acres, even the most enthusiastic of equestrians will find plenty of space for an expertly crafted stable, including optional custom additions and features. At the front of the neighborhood, you will find a community barn with two stalls to saddle up, leading out to the community riding and workout ring.
With miles of untamed nature surrounding Anderson Farms' neighborhoods, one of our community's best amenities is our system of walking and riding trails. Ideal for hikers and horseback riders alike, this network of trails runs through a variety of terrain, including elegant-fenced paths, open meadows, plus the shady, sanded paths found in Hollow Creek Land Preserve.
Set aside in 2007, this dedicated nature sanctuary was established to protect and preserve 110 acres of South Carolina's indigenous wildlife, woodlands, and wetlands. Featuring 4.4 miles of walking and riding trails, plus Anderson Pond, this preserve offers neighbors opportunities not only for reinvigorating excursions in nature, but also for wildlife observation, fishing, kayaking, and canoeing all year-round in South Carolina's temperate climate and mild weather.

Ready to explore Aiken and Anderson Farms for yourself? Connect with us today to learn more about our equestrian amenities, sustainable living amenities, and homestead availability.