Originally established in 1835 and named after William Aiken, president of the South Carolina Railroad Company at the time, Aiken grew in prominence from a simple railroad trading town to a thriving vacation spot for wealthy Northerners seeking refuge in the South's more temperate climate during the harsh winter months.
AN EQUESTRIAN DESTINATION
COLLEGE TOWN SOPHISTICATION
IN THE MIDDLE OF EVERYWHERE
Located near the Southwest border of South Carolina, Aiken also enjoys the advantage of its central location amongst some of the region's most coveted vacation spots. Aiken is less than 30 minutes away from the golf capital of Augusta, less than an hour away from South Carolina's capital city of Columbia, and less than 3 hours from the beaches of Hilton Head and Edisto, the stunning peaks of the Appalachian and Blue-Ridge Mountains near Asheville and Chimney Rock, and the thriving cityscapes of Charleston and Greenville. Take the trip of a lifetime and savor the joys of coming back home to the peaceful sophistication of Aiken's welcoming community.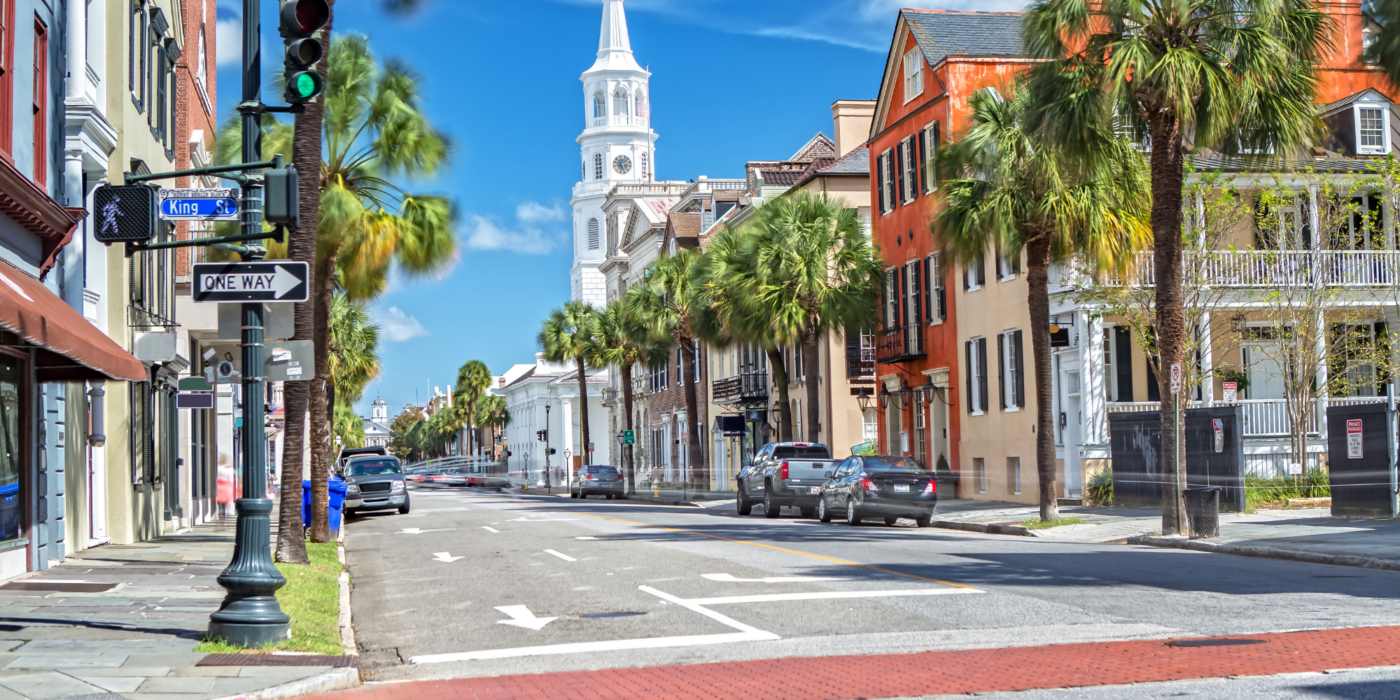 Charleston, SC
PLACES TO SEE, THINGS TO DO
Aiken

's

D

owntown

D

evelopment

A

ssociation has placed a

firm

restriction on chain

businesses making a presence on any of its

downtown

streets,

and as a result

the

area

thrive

s

with

small and privately owned

shops

and restaurants

.

On

top of

the region's mild year-round climate, low cost of living,

charming Southern hospitality

, and diverse calendar of events

,

residents can enjoy a lively atmosphere all year

long

.
HOPELANDS GARDENS
Exuding timeless charm and elegance, these botanical gardens span across 14 acres of a historic estate wandering through cobblestone paths, renovated structures, serene ponds, and ancient oaks. A variety of annual events are hosted here, including the Hopelands Concert Series and Christmas in Hopelands light show.
HITCHCOCK WOODS
With over 2,000 acres of beautifully preserved woodland to explore, Hitchcock Woods is the largest privately-owned urban forest in the country and stands as a testament to Aiken's commitment to preserving its natural beauty. The forest features over 70 miles of varied sandy trails and hosts a variety of lively events year-round.
AIKEN STATE PARK
Encompassing over 1,000 acres of lush woodlands, serene lakes, and diverse ecosystems, the Aiken State Park provides outdoor enthusiasts the ideal retreat for hiking, fishing, picnicking, and wildlife observation. Set along the South Edisto River, the park also features winding river trails for canoeing and kayaking.
DOWNTOWN AIKEN
Downtown Aiken's eclectic restauranteurs offer a variety of cuisines to choose from, including Casa Bella, Prime Steakhouse, our personal favorite, Whiskey Alley, and much more. Find the perfect gift for yourself or a loved one at any of the town's unique antique shops, clothing boutiques, or other specialty shops.
WHISKEY ROAD
For your favorite national chain restaurants like Outback Steakhouse, Panera Bread, Chick-fil-A, Olive Garden, and others, check out the other side of town on Whiskey Road. You'll also find most national retailers here, like Hobby Lobby, Home Depot, Fresh Market, Target, Old Navy, Bed Bath & Beyond, Publix, and more.
THE VILLAGE AT WOODSIDE
Just a five-minute drive away, this serene neo-traditional neighborhood offers Anderson Farms residents easy access to a state-of-the-art fitness center, healthcare providers, a full-service salon, charming restaurants, over 2 miles of nature trails, and a wide variety of family-friendly community events all throughout the year.
EQUESTRIAN VENUES
Immerse yourself in Aiken's iconic equestrian legacy with casual woodland trail riding, historic monuments and museums, plus competitive events year around at famous venues including Aiken Horse Park, Highfields Event Center, and the Aiken Training Track where legendary Thoroughbreds have galloped to greatness.
NURSeRIES AND MARKETS
Thanks to Aiken's mild-climate and long growing season, residents have access to several plant nurseries and farmers markets for gardening goods and fresh produce! Stop by Cold Creek Nurseries for any of your green thumb needs or pick up locally grown fruits and veggies from the Aiken Farmers Market.
CULTURAL ARTS
As a historic gathering space of the Southeast's local artisans and crafters, Aiken regularly hosts a variety of arts and cultural events, including Joye in Aiken, a partnership with the prestigious Juilliard School, Aiken's Makin' Arts & Craft Festival, Southern City Film Festival, and many more.